Five-piece door and face frame assembly can be cumbersome, labor-intensive operations that slow production and produce inconsistent product. Stiles Machinery has the solution: the SysTech Automated Door Component Assembly (ADCA) station, a modular unit that integrates with a cabinet assembly line to produce as many as 10 doors per minute. Set-up and operation are simple. Stiles and rails are loaded into a magazine; glue and fasteners (pins or nails) are also incorporated with the station. Door panels are fed into the unit and are automatically
glued, fastened and ejected. The ADCA unit allows for any type of application and is CNC controlled, so it automatically adjusts for the size of the batch being run. It can also be merged with additional automation devices and moved through to a stacking station or finishing operation. You save time. You save space. You make more doors . . . and more profit.
Working in concert with SysTech Handling, Stiles Machinery brings the SysTech Automated Door Component Assembly (ADCA) station to the woodworking industry. Developed for five-piece door and face frame assembly, the ADCA unit promotes cost-effective automation through increased productivity, efficiency, reliability, repeatability and profitability.
Advantages and Benefits
Integrating the ADCA station into your woodworking operations offers improvements that range from ergonomics to plant capacity to finished product quality.
Increased productivity - increase the production capacity of face frames and 5-piece doors by automating this traditionally time-consuming operation. The ADCA station allows for continuous assembly.

Decreased dependency on manpower - automates a typically labor-intensive operation.

Increased consistency / repeatability - the ADCA station repeats the same precise process for each workpiece, assuring consistency and product integrity.

Decreased floor space required - whether current production is manual or semi-automatic, the
ADCA station is a modular design that can be integrated within an existing production line by Stiles.

Increased flexibility - door and face frame construction can be completed with multiple types of glues and nails/pins and any combination of both. Construction can also accommodate tongue and groove or dowel joints, as well as all sizes of parts.
View streamed video featuring Systech Automated Door Assembly Equipment at www.stilesvideos.com.
For more information
call David Haire at (416) 951-9505.
<![if !vml]>

<![endif]>
<![if !vml]>
<![endif]>
<![if !vml]>

<![endif]>
<![if !vml]>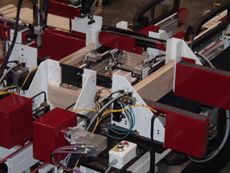 <![endif]>
<![if !vml]>

<![endif]>
<![if !vml]>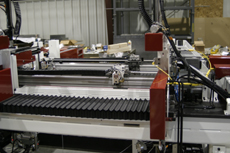 <![endif]>
<![if !vml]>

<![endif]>
<![if !vml]>
<![endif]>
<![if !vml]>
<![endif]>
<![if !vml]>

<![endif]>
<![if !vml]>

<![endif]>
<![if !vml]>
<![endif]>
<![if !vml]>

<![endif]>
<![if !vml]>

<![endif]>